Tool Chest
Welcome to my tool chest page.  What you will find on this page is a list of network marketing business tools that are a key component to building your network marketing business.  I currently use all these tools in my own network marketing business on a daily basis to promote and grow my business. If you are serious about building and growing your network marketing business and are looking to obtain strong business results, then I highly recommend each and every one of these business building tools.
How would YOU like to have 68 (or many more) new subscribers added to your list every day, on complete autopilot?  Well You Can  with this FREE Siphon Hardcore list building site…
The secret behind it is a viral system called the 'Send 5 Platform'.  Get up to 5 *more* subscribers for every ONE that joins your list – on total autopilot.  It's just insane!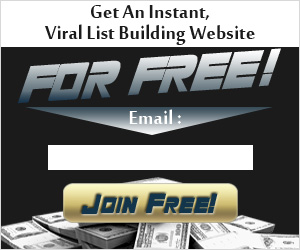 Unlimited Web Hosting

Web Hosting made EASY and AFFORDABLE!
Unlimited Disk Space
Unlimited Bandwidth
Free SiteBuilder (Try Demo)
Easy Control Panel (Try Demo)
1-Click Script Installs
4,500 Free Website Templates
99.9% Uptime Guarantee
45 Day Money Back Guarantee
24/7/365 Technical Support
$100 Google AdWords Offer
My Lead System Pro (MLSP) is by far the best proven, fully customizable, fully brandable, online automated marketing funnel system in place today.  MLSP is without a doubt the one tool that every serious online network marketer must have.  This system works for you irrespective of what company you work with — MLSP is a customizable platform which enables you to generate leads for your network marketing opportunity, with all information specific to you and your opportunity.  Each lead is strategically funneled and guided through the system all the while building and branding you as the expert in your industry.
Learn how top income producing network marketers manage and grow their businesses on auto-pilot with this tool.  Get the step-by-step info on how to set up and build your business like the top earners.
Magnetic Sponsoring is a great training series based on attraction marketing.  In essence attraction marketing is based on how to you get people to come to you as opposed to you running after them.  It focuses on selling yourself first as opposed to selling your company, opportunity or products.  Magnetic sponsoring shows you how to sell yourself first, then your marketing system and finally your product, service or company.
Here is a quote from Mike Dillard that really gave me the epiphany "Nobody who bought a drill actually wanted a drill, they wanted a hole.  Therefore, if you want to sell drills, you should advertise information about making holes – NOT information about drills." Magnetic Sponsoring is a great tool that works extremely well with MLSP.   Get your copy now for only $39 and become an affiliate.
One of the Seven Must Knows to lead generation and building your list is having a reliable email marketing system (an auto-responder).  I'm sure you have heard the saying "the money is in the list".  If you are an online network marketer then having an auto-responder is an absolute must.  There are many, many autorsponders on the market; however the key to having a good auto-responder tool is in its reliability and deliverability results.
There are two companies which I recommend and are considered the best: Aweber and Get Response.   I currently use Get Response as my autoresponer.  The system automatically sends out my messages when prospects opt in.  I generally only have to write my messages once, set the response intervals and the system does the rest automatically.  Both companies have a very easy to use system with lots of tutorials should you need assistance.  A reliable, dependable auto-responder is a must have for the serious Network Marketer!
Now You Can Multiply Profits AND Automate Your Business
AWeber's email marketing software makes it easy.
Learn how they can do it for you, too.
Take A Free Test Drive Today!
Ever wonder how the top earners get their websites to rank so high in the search engines, especially on Google? Why is it that they can and you can't?  The answer is – they automate the process!  There is a sweet little SEO gem called SEOPressor that is so shockingly effective for on-site SEO, it will have you saying "WOW".  It has been tested and has been proven to work and deliver the results time after time.  This WordPress plug-in will boost your website's search engine rankings almost immediately.  What's also surprisingly great is the low one-time cost and your ROI.  If you write a blog for your business and are using WordPress as your platform, this tool is by far a winner and one of the best investments on the internet.   Here is a snapshot of one of my recent post using SEOPressor: My post is on page 1 of Google Rank#2.  I highly recommend SEOPressor!
Magic Article Re-writer is a tool that generates a tsunami of leads using article writing.  This tool allows you to create thousands of UNIQUE articles in just minutes…just like magic!  Top marketers have made their reputation, their visibility, their credibility and gold list by writing articles.   It's no secret anymore that the more articles you produce, the more back-links you will have, thereby increasing your visibility and rankings on the search engines, thus more leads.  The problem with this is who has the time to produce hundreds of articles monthly? Or can you afford to pay a writer to produce a ton of them for you?  There are hundreds of article spinners on the market, but none quite like Magic Article Re-writer.  MAR has a Synonym Database which Includes Phrases, Tokens Support – a way to add your own words as well as phrases as well as Manual Spinning.  See for yourself!
Tool

Share on Facebook